November 16, 2022
3:00 p.m. – 5:00 p.m.
Online and in person in Brussels
Aidos, with partners from the Mind the Gap project, is organizing an international conference entitled "Promoting Gender Equality in Classrooms and Beyond", an opportunity for exchange and reflection on gender equality, violence prevention, and countering stereotypes in education. The work done through the project will also be presented, thanks to the participation of partners, experts and policymakers. The event will occur online and in person in Brussels on November 16, 2022.
The event will be in English with interpretation in Italian, Spanish and Portuguese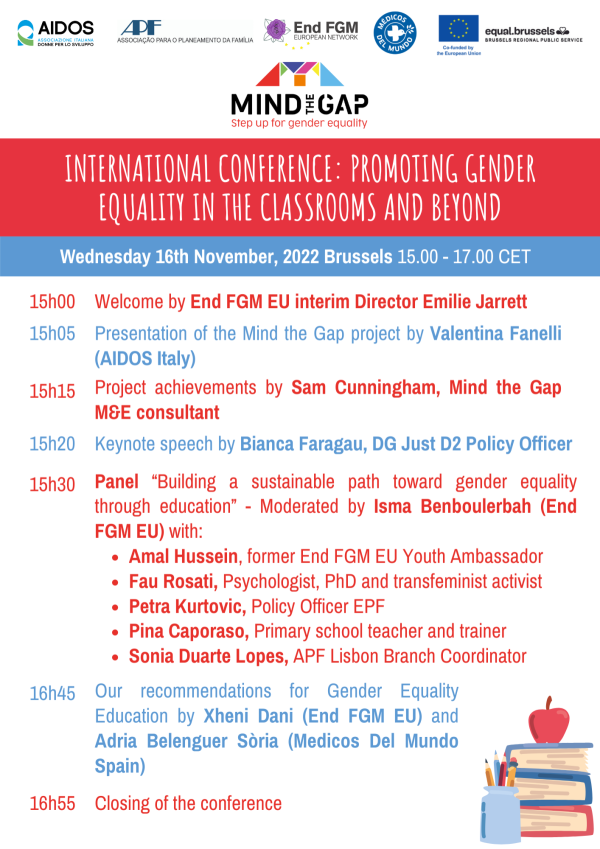 Aidos, EndFGM European Network (Brussels), Apf (Portugal), and Medicos Del Mundo (Spain) implemented the Mind the Gap project, co-funded by the European Union, to help address gender stereotypes in education in Italy, Spain, and Portugal by raising awareness among faculty, nonformal educators, and university student(s) about how stereotypes and gender roles influence girls' and boys' study, work, and life choices.
Main activities:
– A guide on what gender stereotypes in school are and how they can be avoided
– Training of teaching staff, educators and students
– Exchange meetings between partners, training beneficiaries, teachers, educators, parents, girls and boys
– Awareness-raising events
– International conference online and in Brussels
Here you can download the Guide.
Mind the Gap is the follow-up to the "ABC, Alphabets for sentimental education" project in which 18 educational modules were created, valuable tools for those who work at school and beyond. They have also been used in the Mind The Gap project. Download them here.